Bill

Ecosystem

Multiple and flexible integration solutions, from existing billing systems to receiver endpoints, networks and third-party providers.
Integration expertise
connecting the network
Customer Centric
Game-changing experiences that
customers demand
Transforming
Deliver satisfying, personalized
experiences
Impactful
Turn your customer experience from
ordinary to extraordinary.
Valuable
Spend analysys and control tools that
help build loyal customers
Core systems
One or multiple legacy systems remain unaffected as Magnify handles any format produced, from billing to other complementary systems, such as collections, CRM or Payments.
Touchpoints
Integration with existing CSP Portal, Mobile apps and other touchpoints within the billing journey, enabled by our APIs.
Customers
For larger companies who wish to receive their bills in an integrated manner, either through their own EDI provider or custom projects.
Third-party
Existing interoperability with EDI networks, PEPPOL and capability to connect to third-party platforms.
Frictionless integration capabilities
Multiple Data Ingestion capabilities that handle CSPs Core Systems Data output, such as Billing Data, Usage Data, Customer Hierarchies, Allowances, Payment status, Users Authorization and any given data that may enrich the bill presentment experience.

Our APIs enable Data Retrieval from any Customer system or portal, CSP Web and Mobile touchpoints, EDI providers and other third-party systems or networks.
Connected ecosystem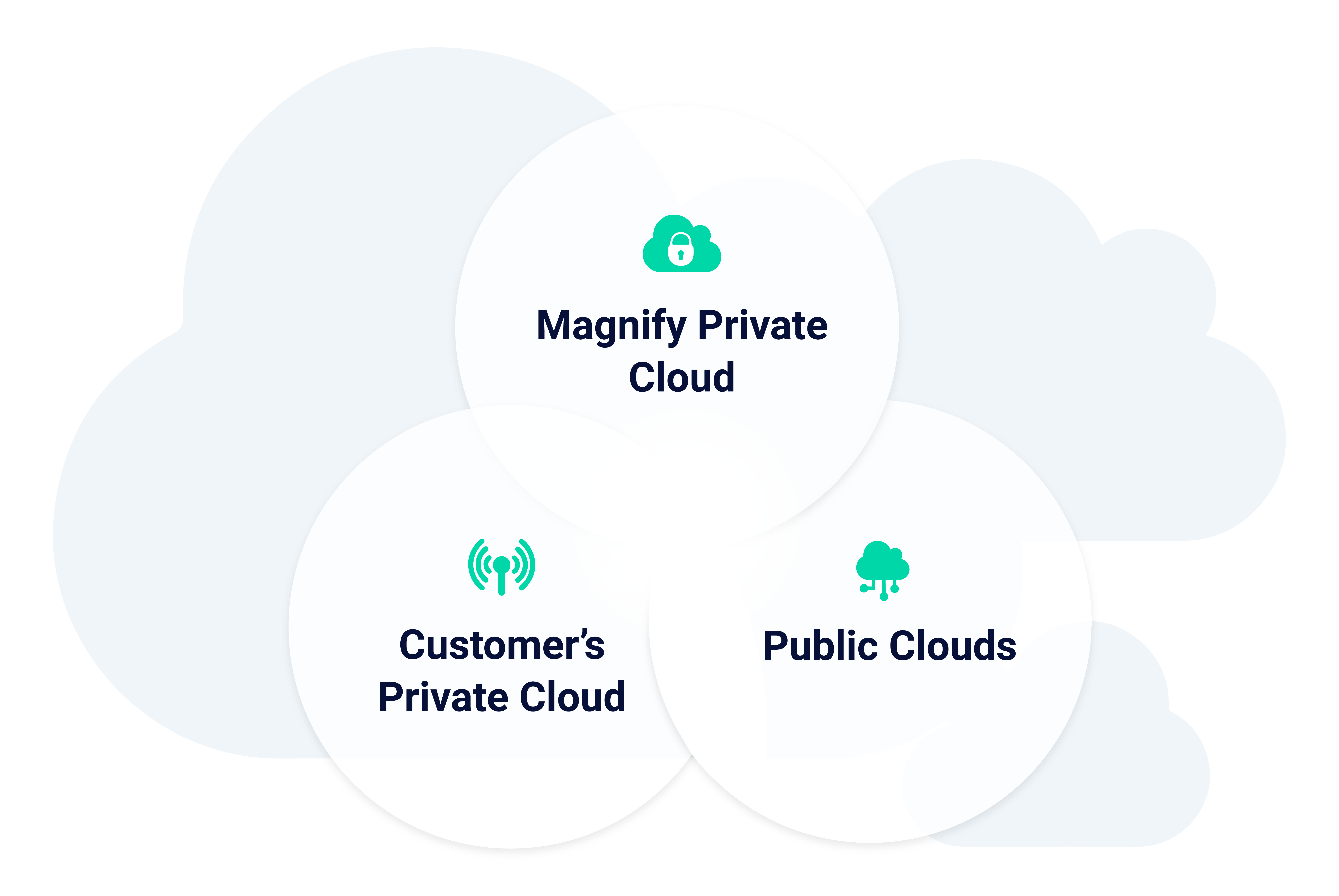 Connected ecosystem
High performance under Flexible Hosting
Magnify can be hosted on the cloud or on premises.
Besides Magnify's Private Cloud, the customers can also choose their own Private Cloud or premises as it can also be hosted in Public Clouds, within a Cloud Infrastructures Model.


Magnify is prepared to handle large billing processing volumes , under demanding requirements and SLAs, while ensuring a high performance and quickly scalable infrastructure.



See Our Bill Ecosystem
in Action
Get to Know the features that enable connectivity between the systems and stakeholders in an automated, simple and accessible way.
Request a Demo
Why Magnify
Bill Ecosystem
See our Bill Ecosystem in action
Get to Know the features that enable connectivity between the systems and stakeholders in an automated, simple and accessible way, while not affecting or requiring any changes from the CSPs legacy systems.
EXPERTISE
In handling complex billing and complementary data structures from multiple systems and formats.
EXPERIENCE
More than 20 years of EDI background and thousands of integrated systems.
SCALABILITY
Capable to handle increased workloads over time and rapidly adjust to the evolving business requirements.
FLEXIBILITY
Adaptive solution to any system, data source, customer requirements and Flexible Hosting Model.